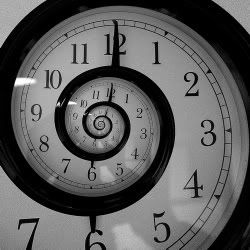 Well, I have been POAS 2 times a day since day CD9. Watching the line get darker and darker
(just not quite dark enough,
yet).
This morning (CD 12) my CBE Monitor represented the high reading. So it should be soon.
( i hope)
As long as I have had this CBE Monitor, (since Aug. 06) I have yet to see it go from high to peak representing an ovulation. So I am looking forward to this very much so. Although, I have heard that c.lomid messes up the monitor readings. (that is why I am using the ol' fashion sticks too) Today I have felt bloated, thirsty and extremely sleepy (slept til 9 am, watched tv/laundry, took a nap at 2ish - 5ish and still feel really exhausted for no reason) I had a headache earlier this morning. I am assuming these are all lingering side effects. Hope everyone had a great weekend.
***** Update - It's 2 am, and I should be sleeping but instead I am awake and very sick to my stomach, praying to the porcelain goddess... I am hoping it was ovulation related. Maybe it is/maybe it isn't. Now I am going to look up OHSS. I don't know if this is related. cripes... Hopefully a more positive update soon*********