My work shower was great fun: Look at the cake -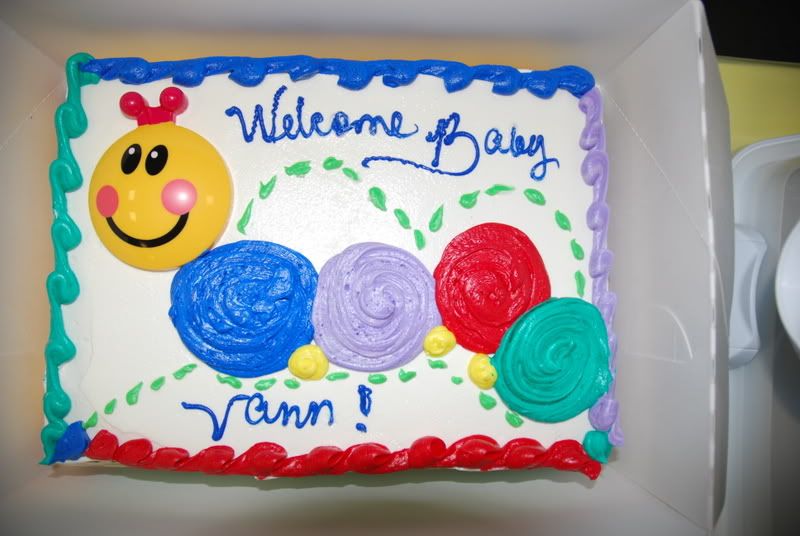 SO CUTE! It seems we only need a few minor items from our registry plus a swing and a car seat. We are still waiting the S-MIL on the carseat but she has made arrangements so it should be resolved soon. We are dealing with a discontinued color item .... It will work out. I am not worried
The dr's office and pharmacy were finally able to communicate to each other in the same language and get me syringes that require me to only have 2 shots of hep.arin a day instead of 4 shots. (2 in the am, 2 in the pm due to too small of syringes ordered) YEAH for that - Hopefully I will bruise much less.
We are going to watch E's brother graduate from High School tonight. We should be back tomorrow afternoon. There will be some serious work being done in the soon to not be guest room.
I am finding myself going to the restroom SO MUCH more. I had a few weird/painful "OMG, I have to pee NOW" moments this week. I assume baby is dropping more and using my bladder as a cushion, boxing prop, pillow, head rest ... aka WOW that is really uncomfortable.
I was tagged by
SuessGir
l:
A - Attached or Single: Attached
B - Best Friend(s): E
C - Cake or Pie: Cake
D - Day of Choice: Saturday
E - Essential Item: Cellphone
F - Favorite Color(s): Pink,Purple
G - Gummy Bears or Worms: Gummy Bears
H - Hometown: Tarpon Springs
I - Indulgence(s): TV and Sleep
J - January or July: July ( that's my birthday month)
K - Kids: Yes, please.
L - Life is incomplete without: Family and pets
M - Marriage Date: 08/2002
N - Number of Siblings: 1 younger sister
O - Oranges or Apples: Oranges
P- Phobias or Fears: snakes, i fear the unknown
Q - Quote: ""Your true value depends entirely on what you are compared with." - Bob Wells
R- Ring size: 8
S - Season: Summer (I live in a hot state, It's the only season i Know)
T- Tag 3 Friends: i tag anyone that wants to participate
U - Unknown fact about me: I was a member of our drill/color guard team in High School
V - Very favorite stores: Target, Borders, stores with purses
W - Worst Habit: Biting my nails
X-ray or Ultrasound: I have had plenty of both
Y - Your Favorite Food(s): Cheeseburgers and steak from a grill
Z - Zodiac: Cancer