I have a habit of taking pictures of random signs - Example, Here is a sign we saw hanging in the restroom area of a chain sandwich shoppe. I have no idea what it really means (I was told it's German) .. but use your imagination ... So funny: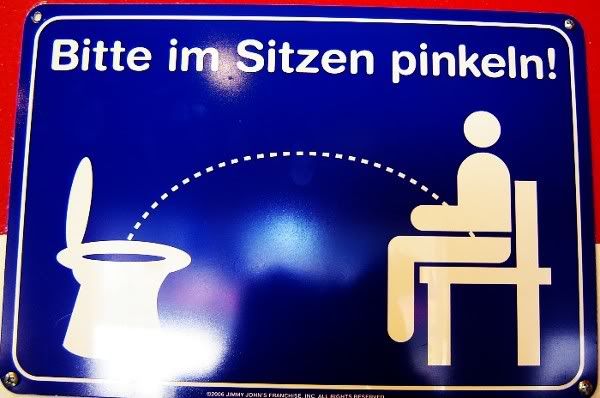 Weekend Update - Pword talk beyond
We are back from E's brother's graduation. It was one of the best high school graduation's I have been to in FL outside on the football field. It was breezy weather (which helped SO MUCH), the speakers were not long winded about nothing, it was short and concise. We made it back in town in time to pick up my new crib and a few items that i needed from the massive baby store. My house looks as if it has had an explosion from all of these gifts and I am now feeling the nesting/organizing bug coming on STRONG. I was in the pool tonight discussion with E our plans for cleaning out the closet tonight. Yes , It's after 10pm and we will be doing this lil project tonight ... I am nesting like mad ... I am also planning on my friend taking pictures of us tomorrow at the beach (where we took our engagement pictures) for semi-nice professional belly/maternity pictures. I experienced a few more brax.ton hicks contractions today that I would like to admit. I think it is getting super warm, I walked around the massive baby store too long and needed water. Hopefully next week I will have Beach Pictures to show.