We are back from a fantastic trip to the Keys. It's a long drive but worth every penny. I enjoyed spending time with my parents in a 8 hour car ride – and I enjoyed not being on a major schedule. The wedding was actually in a n area of the main Key that I have never been to before. My Aunt rented an electric golf cart (limo style-picture below) that E and I got to shuttle people around on taking them to see all the different tourist/landmark locations. E had never been to the keys so I was excited to show him around. We
didn
't make it to the sunset shows. I do highly suggest that you go to the pier off
du
.val street if you are ever down there during sunset. They have street vendors and different types of street entertainments – but the sunsets are the best.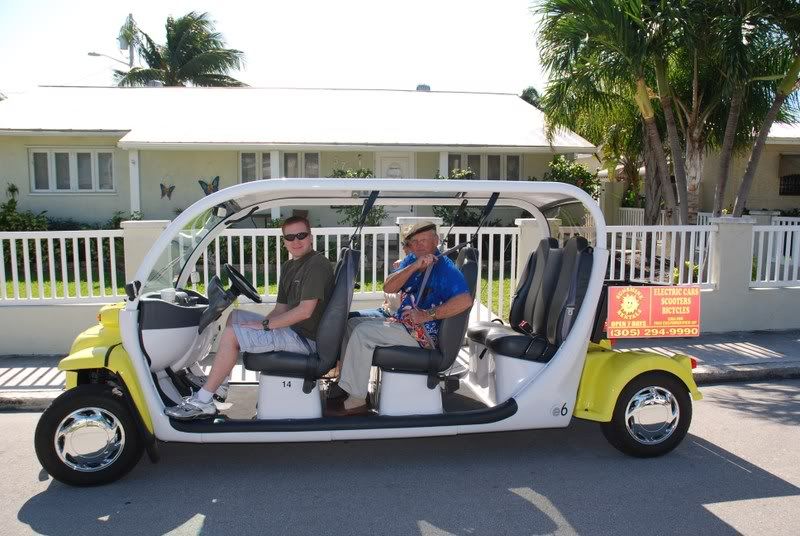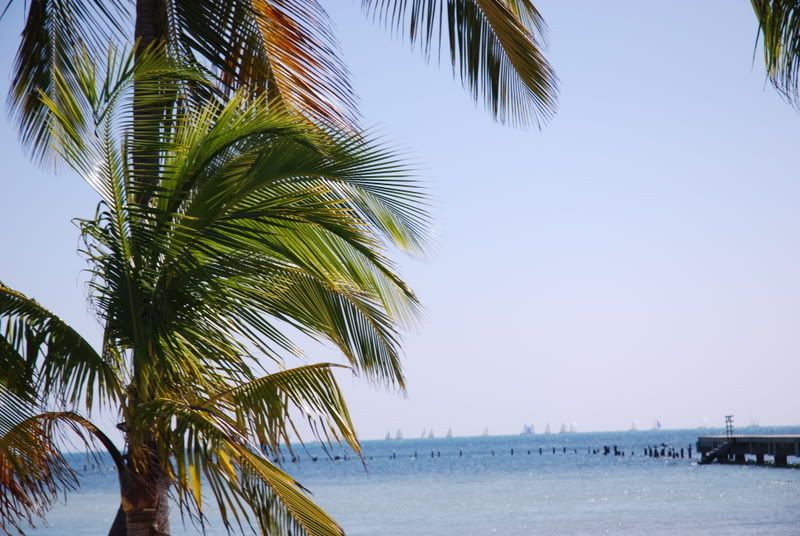 p-word mentioned
42% of your pregnancy has passed, there is 58% left to go.
I am 18 weeks today. I am still feeling movements and flutters and kicks and rolls.

YAH

, this makes my mind so much at peace. (not 100% of the time but more so then before) . Mini is the size of a Cantaloupe and I feel like the Dirty Dancin line "i Carried a watermelon" Except I said "I am carrying a watermelon). I am feeling a bet more "stuff, weight, pressure down there. I think lil Mini was tangled in my lower ribs his weekend quite a bit. I feel like a weird pinchy feeling in my lower ribs at times.

My cousin had my name tag at the reception with Mini-

Vann

on it!! ( it was awesome and made my night)


Yesterday I had a bad nose bleed and I probably should have called the Dr's office – but I am

alil

upset with them at the moment. I called last week (Wednesday to be exact) and asked about why I

hadn

't heard from the

MFM

Dr's office yet. Friday on our way out of town, My cell phone message alert went off to notify me that I had a voicemail. I called my voicemail and it was the OB Nurse, I don't know how I missed her call – but she left a message letting me know that the

MFM

Dr is reviewing my files, I should be expecting a call this week – they

aren

't sure they will be able to get me in before my OB appointment on the 7

th

. I was ,at first, really bent out of shape about this news. I have now calmed down a bit and am trying to go with the flow (TRYING!) I thought about why I was so upset about this – it's really about expectations. They tell me X is going to happen this way – and X

doesn

't seem to be happening the way they instructed me it would– I except it to happen that way (they have done this to me in a few of my appointments now) – I need to learn to be more flexible. It's just one more of my flaws. I like structure and reliability. I was going to call back this week and ask if I could schedule an U/S at their office – but after talking with E, as long as we hear the heartbeat on the Doppler, I will be

ok

waiting until the

MFM

Dr's office calls me to schedule. I hope everyone had a good week – I have caught up on my blog reading but did not comment much – hopefully I will be back in the swing of things soon.
I have a few posts brewing in my head - one is work related, one is pregnancy related. Hopefully I can get them out of my head so they stop torturing me soon.
Melissa
(smells like Mel) - Apparently you have gone to invite only- If possible I'd like to be invited.