Normally I am a retail shop defender - but lately I want to cause bodily harm where there is lack of customer service. I worked retail through High School and College. I managed a Ha.llm.ark Sto.re and worked at The G.ap and Ol.d Na.vy. So I have many years of retail experience.
* i know that both of these bad experiences could have been avoided if I actually READ the return policy - but really do you think about that much before purchases at these stores? Or maybe I am the only idiot...
A few months ago, I had to return something at Target and discovered they have a new HORRIBLE return policy. Basically - you get 2 returns w/o receipts a year. The store will give you current price and credit on a gift card. If you have a gift receipt, they do not have prices on them - they will have to look up the original receipt in order to help you. And be ware paying with cash is not good at all. If you lose your receipt and you pay with a credit card, sometimes, if you take that credit card back up to the target you purchased from, they may be able to pull up your itemized receipt. If it is past 90 days, they will tell you they can't help you. Here is another explanation
here
and
here
. Maybe there are other stores do this and I haven't had troubles with them yet. But I wanted to beat the crap out of the punk that would not let me return 2 maternity shirts I received for Christmas because they were not in their system. My extended family lives in NC and I am sure it was bought sometime before thanksgiving in a store in NC because my aunt is always on top of her Christmas buying. I am sure I could call her and ask for the receipt but I think that is a bit tacky and I'd just rather not. Plus knowing her - it probably has been close to or over 90 days.
SO - as of Right now I am pissed off at Target. Plus I do not want others to get bit by the 2 returns a year policy (w/o an original receipt). (and mostly why i started a registry at that

baby mega store only

)
The other store that I am bent out of shape about is Motherhood. Their exchange policy is even crappier. I went in and bought a bra in a larger cup size because I was tired of trying to stuff the girls in my regular bras. I grabbed one 1 cup size bigger. Um apparently I am 2 or 3 cup sizes bigger and they do not sell that size (i bought it at 8:30pm and tried to return it the very next day around lunch time) ... LARGE JUGS.... OK on to their return policy:
Regular merchandise can be exchanged within 10 days with an original receipt from other merchandise or store credit.
All merchandise must be unworn and undamaged and must have original tickets attached.
All sale merchandise, intimate apparel, swimwear and special occasion items are final sale
There are no cash refunds or credit card refund.
YES i know i should have read the fine print - I should never assume. I know what that does to people - just thought I would pass along my mistakes.
After that negative post - I should state that I heart JcPenney's and Old Navy for their return policies and maternity clothes.
I got the results of my glu.cose and A.FP testing - I passed both with flying colors. I forgot the # that they gave me about my glucose result. I work it down at work and now am not at work. I am STILL (un)patiently waiting for the M.FM dr's office to call me with my appointment date. I may call Tuesday and set it up myself. Here is me and mini vann at 2 days shy of 17 weeks: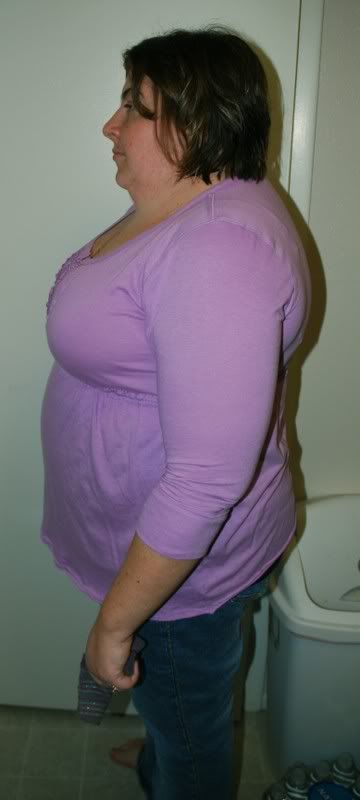 Ok off to prepare for my Pa.ck.er game. I heart
him
very much so!!!