Anyone know what today is ... Yes July 1 - My Due Date!! And Baby A (aka Monkey Toes' (or MT) - yes he know has a nickname) is 3 weeks old today.
(3 weeks ago)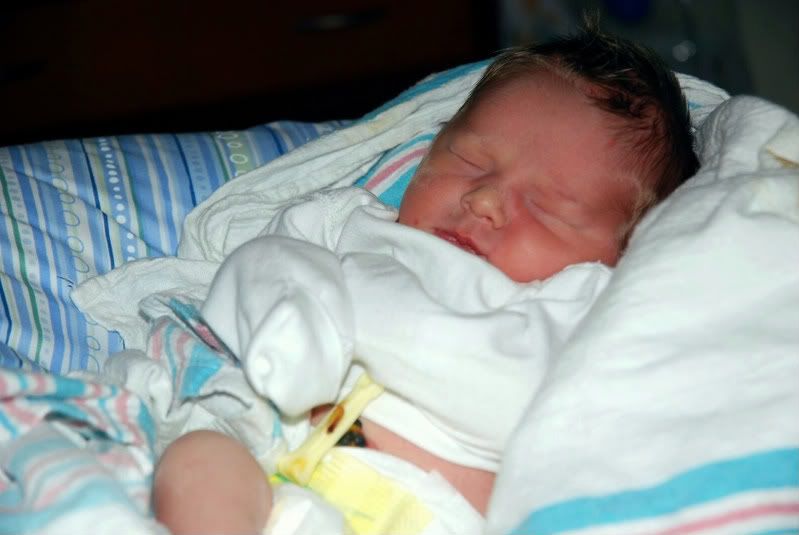 The changes that have happened are amazing.
He went from not sucking and having trouble eating to 3oz. He has gotten much fuller in the body. (do you know I haven't taken a picture of him w/o a outfit/blanket on, I am going to do that today) I cannot wait to weigh him. I may take him to a grocery store scale today and see if I stand on it and then stand on it with him, If i can see about how much he weighs now.
His belly button fell off yesterday (took 20 days). He can now have his first real bath instead of the lil bird baths he was getting.
He is sleeping great
I have only called the pediatricians office 2 times.
He does have an irritated lil booty. The dr's office told me to stop using wipes and switch to either toilet paper/wet paper clothes and wet wash clothes to wipe then apply something with zinc oxide on his lil red bum. It looks like after a day of this, it is getting better. If not I will be calling again before Friday. He does have his one month appointment the 9th
He loves to suck on his tongue and fingers
His hair is turning a shade of red, he has the most beautiful long red eyelashes.
He was laying on his floor gym the other night and grabbed at the toys overhead to pull on them - I wish I had the video camera. That was so cool to see.
*I am oh so forgetful, there are so many more changes my lil brain sits down to blog and it goes blank. If there is anything else, I will be back to update or post another*
As for my pumping - it took a nose dive in supply about 3 days ago. I am now still pumping every 2 hours, using a hospital grade rented pump (this one) MT has latched on to breastfeed about 5 times now. He still is having a hard time understanding that he can get milk out of them - he latches on for about 2-5 mins then I have to get his re-latched (?) while he is alil fussy and seems to get alil frustrated. My OB gave me some pill to try also. This morning I had my best pump session in 4 days - So I am hoping the efforts are starting to work.
The OB appointment was very standard and routine. (except for discussing breast milk supply and her encouraging me to see a lactation consultant). I will be seeing her again in 4 weeks and I still hope all is going smoothly still.
(I am hoping to get a good picture of Me and baby today to post. I have to wait until E wakes up)