Well it's Been 27 days (almost 1 month) since MT's arrival. I am listing out things I have learned, still learning, haven't mastered, and fear thus far.
He has been out in public and I am starting to feel comfortable taking him places.
I have packed him up and left the house by myself a total of 2 times. (I guess I do rely on E too much)
I still have not figured out the best approach in leaving the house to run errands is. I am bottle feeding, I have ice packs to keep my milk cold and such We have a somewhat routine down. MT wakes up, change diaper, feed, play or talk to him or swing or floor gym time, sleep ... this cycle repeats itself about every 2.5-4 hours during the day. The rhetorical question is - When will I feel comfortable to feed him and change him in public. Right now we will change his diaper, feed him, make sure I have pumped, then head out, do our thing and rush back before the cycle has to start all over again.
He has not had any crying fits longer than 10 minutes if that. He is genuinely a very happy and content baby.
E and I have only had 2 yelling matches. They both were hormonal induced. I was at fault and quickly apologized. I had expectations that had not been verbalized and E is no mind reader. He told me that he expected more abuse from me - maybe I should do more ;)
I meant to add moisturizing antibacterial soap to the most have list. It seems all I do is wash my hands these days.
It's all a work in progress - so much more to write but now i have to go wash laundry and make dinner .. back when I get more time. Of Course, Ill leave a picture (he is still wearing newborn outfits - but i swear he is changing and growing. I put him in 0-3 months, he drowns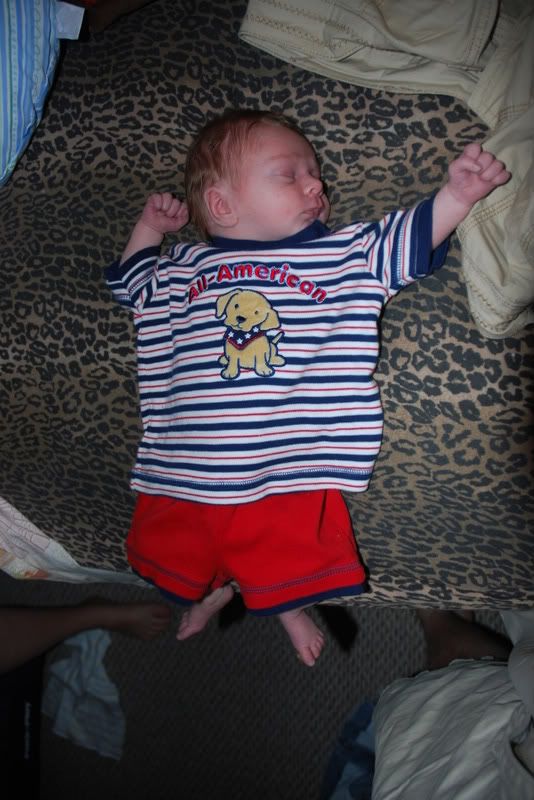 (o-3 months)