Thank you for The Birthday Wishes. We had a really good day and that night MT gave me a birthday present of sleeping 9 hours. I was actually very grateful for 7 of them and then spent 2 hours pacing - finally I decided to wake him up and make sure he was ok. *which he was but I apparently am overly paranoid with certain things*
We are going to our first bf mom's infant support groups at the hospital I delivered at in the morning at 10. I am excited to go and see how I do amongst others that are moms and have children MT's age. It will be my first meet/greet mom style. It's a weird territory for me. I called a friend to make sure I was supposed to bring MT with me. I didn't want to show up kid in tow and find out that childs are not supposed to be in tow ... *i know i know ... I am learning.. E says it's a B.Y.O.B Party (he can't decide if the last B is bo.ob or baby) Yes yes I know he is not RIGHT .. MT and I have been working on our bf'ing. I say we have about 2 good latches a day. We are trying and not giving up he is gettin the hang of it. We actually nursed from both sides today. He is a one side only kind of bf-er - But it's progress.
Ok calling all seasoned/newly/wise/experienced/nonexperienced/etc. Mom's/or women with ideas - The past 2 days we have had some really clingy/crying hours. From about 10am-2pm he has decided to only nap if I am holding him, and if i put him down he does this cry like he is being squeezed in a vice and twisted. It's awful. Before 2 days ago .. he would go from a whine to a whimper and if not fast enough to meet his "needs" then a cry like you are squeezing the ever loving breathe out of him ... Now we skip all whine/fus/whimper and go straight to the death cry .... I have found that the paci works WONDERS .. (until it falls out or he pulls it out) ..shhsing also works .. I absolutely have to keep the paci in his mouth or else .... We are now repeating this lil "exercise" as we speak ....... he is in the swing, i just have to make sure the paci stays in .... he is fed, changed, burped, clean, no fever ...... any ideas? this a familiar phase to anyone?
this cute lil face is who I'm referring about: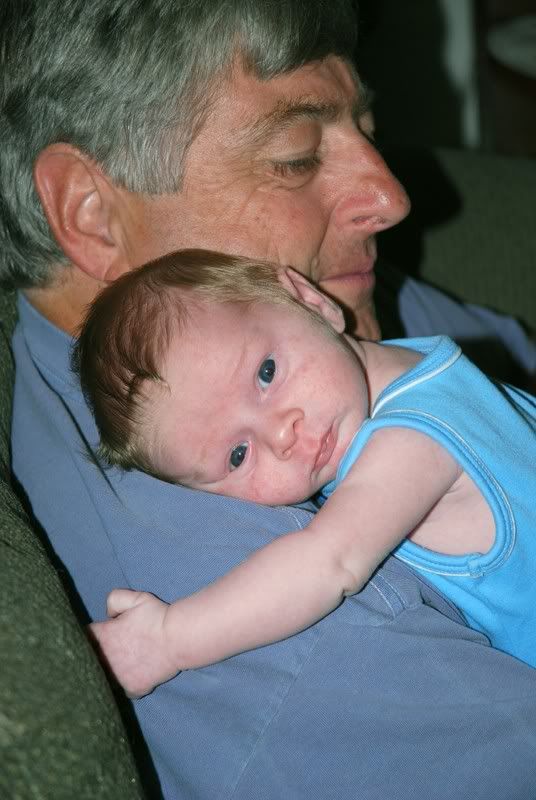 ME WANT CAKE: