"a live one" According to the U/S tech. I have a rambunctious live and healthy baby.
SHe was having a hard time seeing the goods... SO she skipped that part and started measuring the limbs, brain, heart, heart some more.. I got ot watch the blood flow from the heart chambers and umbilical cord.. OH VERY neat.
THEN .............. She says OH are you Ready for this .......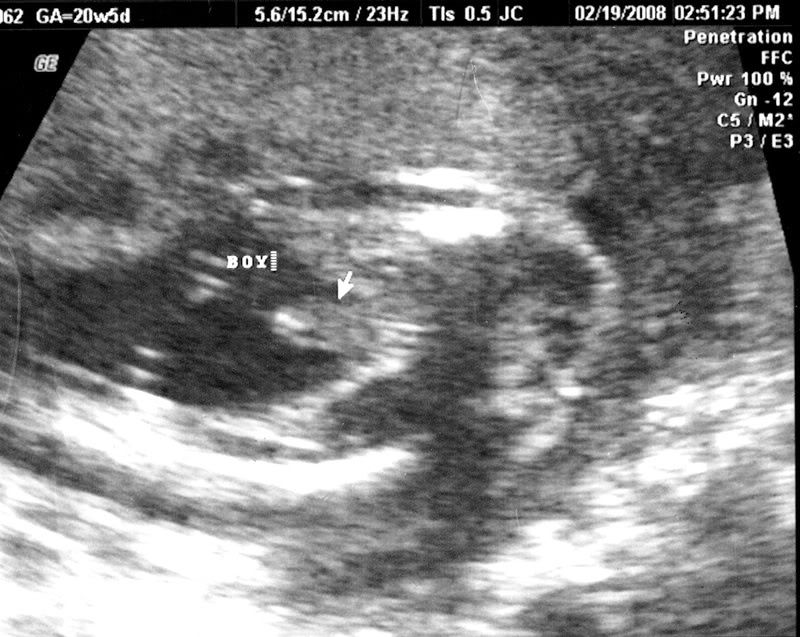 Here are the BOY Parts!!
We have a healthy rambunctious little boy and we couldn't be happier! I met with the absolute best dr ever. He truly is a dream dr and just put all my fears at ease and handled us with care and professionalism. *more on the appointment later - of course I have a new diagnosis
(sorry it took so long to update - we had to travel a long way to get to the dr's office and then through horrible Tampa Rush Hour.) But It was worth it for the wonderful DR- I go back to see him in a month!
Here are some u/s pics:
face profile you can see nose, lips, chin and a curled up arm under the chin
Mini is actually looking straight into the wand/camera/probe - Say Hey