This post is going to be all over the place:

Happy 1st blogoversary to me – I forgot to post this but Feb. 3rd (superbowl Sunday) was my 1st Blogoversary. I have met so many wonderfully bloggers/commenter's and I don't know where I would be emotionally if it wasn't for this community. I have been allowed to explore my deepest fears, thoughts and ideas here for the past year and it has made a huge difference in my friendships, work and my marriage. You guys really do Rock! This past month, I have been faced with decisions that I thought I would never get to make or have to make – and this bloggin process has helped so much. I am going to link you to a few posts that have been made over the last couple days that have really had an impact on my heart and soul recently.


A SomeDay Mom
– I totally could have written this but instead of plagiarizing, I will link you to her – but her thoughts are exactly mine – just better written


Blood Signs
– this post is just powerful and brave. I am in awe of her writing ability. She really is a fantastic woman. The part that left me thinking is at the very end of her post about the book "The Prophet". Before that quote, as I was reading, I kept trying to imagine myself in her situation. Would I have been strong and graceful enough to handle that situation the way she did? Pam, I am really inspired by that post – Not many could have done such a beautiful balance as you did!


Mel's
post yesterday about the community in which we write from and about – Really I just wish I could express my thoughts and feelings the way some of you are capable of doing.

P-word mentioned:
Not only did I have my 1 yr blogoversary – but I am 19 weeks. (45% of the way there) I am still feeling movements. They are still somewhat sporadic but still feeling them none the less. Saturday morning, I woke up feeling like I had done 1000000 sit-ups. Anyone ever feel this way while pregnant? I assumed it was because of Mini- kicks and Mini-growing. (Mini- my love, I am plenty big and there is plenty of room in there already- you already want more space and more room?) I am still holding at the same 5-6 lbs that I was up at my last appointment. I am changing shapes, furniture is moving and you can see the protruding roundness of my belly for sure now. Here is a pic what 19 weeks of lo.ven.ox injections look like: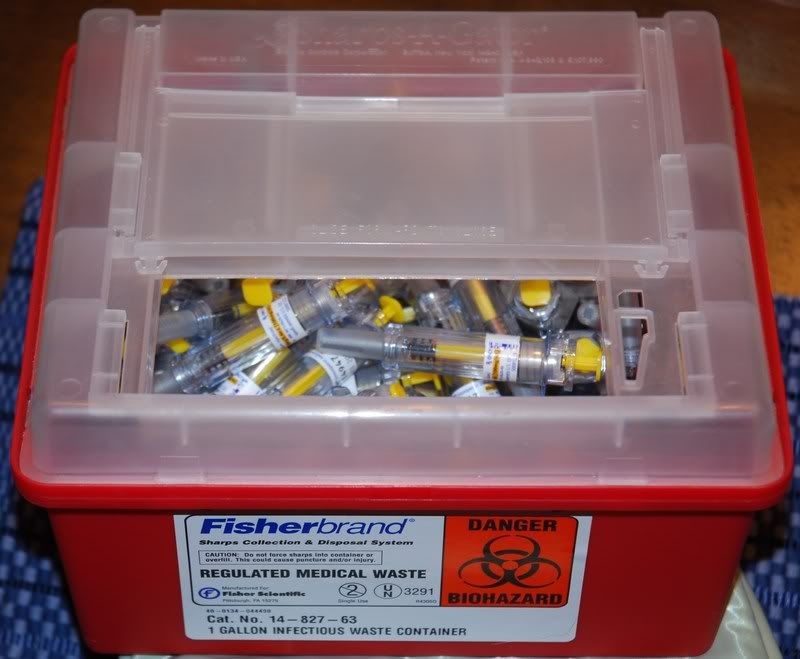 Say Cheese – This week my baby is getting that yucky stuff you see some newborns born with. A protective substance called vernix caseosa (vernix is the Latin word for varnish; caseosa is cheese) Mini is also approx. Six inches long and about eight ounces in weight. Mini is the size of a large mango. (reminds me of a SNL skit – no touchie the Mango) Which is the way I feel about strangers rubbing/touching my belly!
DREAMS: My dreams are back and in full swing – here are the less creepy/more recent ones
I had my very first dream about My baby, This baby on Friday night/Saturday Morning. This dream was much much different than any other dream I have had in the past. Somehow I knew it was a dream about this current baby on the way. I got to see a face of the baby and was told the sex. All other dreams (until this dream) have been very vague in the past. I never usually see a face it always hazy or blurred and they are always gender neutral and wrapped in green or yellow swaddling. My baby was very distinct and clearly wrapped in a pink/flowered blanket that I bought to give to my MIL almost 4 yrs ago (that is currently lying on the guest bed) and never ended up giving it to her. In the dream, My mom went to the hospital to "pick up" my baby and bring it back to me because I wanted to be "surprised", while I stayed at home and waited! WEIRD, yes ya think?!??!, She the pink wrapped baby to me and told me she was a girl and that we needed to give her a name. (Think I have lost it yet? – there is one more)
The second dream, Sunday Night/Monday Morning – This dream was about feeding what looked like the same exact baby girl from the first dream, a bottle. They (not really sure who "they" were) were trying to feed her bad formula that had set out for over 2 hours because they didn't want to waste it.(at my parents house but with different furniture). I was not there, they were babysitting and I walked in and found them talking about how "she" needed a bottle and to just grab the last one on the counter because she didn't finish it. I was all frustrated trying to figure out why they made an 8 oz bottle for a 2 month old.


Speaking of things I never thought I would get/have to do – make a list of whom I wanted to attend MY baby shower. I did that this week. WHOA was that ever interesting. I realized that it was quite a different list than I would have thought about pre- pregnancy. Being a shower thrower of many years- I thought I would want the whole wide world there – Now that I was asked to compile a list – It is about1/4 of the list. I have decided that I feel more secure and comfortable with just a few friends/family that are aware of my situation. I advised my sister to tell my parents that if they wanted to have a heavier guest list after the baby was born for "Mini has Arrived" Party. I am all gun-ho for that, but would like to keep the shower guest list down as much as humanly possible. We'll see how that goes.