I've been tagged!
Nurse Lochia
tagged me, and here are the rules
1. Link to the person who tagged you
2. Post the rules to your blog
3. Write 6 random things about myself
4. Tag 6 people at the end of your post and link to them
5. Let each person you have tagged know by leaving a comment on their blog.
6. Let the tagger know when your entry is posted.
1- I am not the mother I thought I would/planned to be. I have mentioned this before. It STILL amazes me, the things I find myself doing, researching and saying. I see the looks in people faces or the tone in their voices when I say things now that contradicted my previous opinion/stance. I usually try and defend myself or explain why/how I have changed. Sometimes, I just throw in a chuckle at laugh at myself because This Woman/Mother is not at all who I had imagined me to be. I like this new woman. I like her alot. I feel calm, I feel Freedom, I feel contentment. These are things I have longed for. I am going to enjoy these feelings for as long as they last.
2- My house is never organized. Now, It is driving me crazy. I was not an overly organized person to begin with but now all i want to do in my spare time is straighten, organize and downsize. My vacuum cleaner was not doing a job to my liking, so I pitched it and got a new one. I have cats, I want the floor clean when I lay a blanket on the floor for my child to lay on. It was driving me insane. (more things to add to the list of what i never cared about before)
3- I wish I had a bigger kitchen. One day I am going to take a picture of our closet sized kitchen (no, I am not exaggerating). It is ridiculous. It makes me so hate cooking because of lack of counter space and cabinet space. My dream home will have a HUGE eat in kitchen
4- I watched the whole series of 90210 from start to finish recently. It was being replayed on the Soap Channel. Every day for 10 months, my tivo recorded 2 episodes a day. ( It just started over again Tuesday - If you are interested)
Should I admit that? too late
5- I desperately need new ring tones. I have had the same ones for well over a year and I am tired of listening to them ... taking suggestions
General Ringtone - 1234 Feist
Hubby - The Way I am Ingrid Michaelson
6- In my organizing, cleaning spree, I found and rolled over $350 in change (holy pennies) and took it to the bank.
If you want, Tag you're it.
Wanna see a cute boy? Of course you do.
Just so you don't think he is always happy: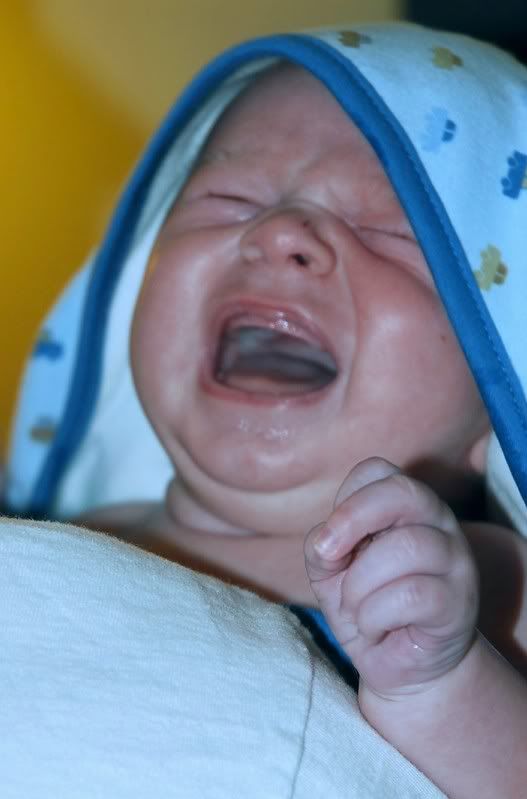 He didn't want to get out of the bathtub ;)