As far as growth goes, your baby's still on a roll, measuring an impressive 18 inches and weighing in at more than three pounds. You can still expect your baby to gain at least three to five pounds, possibly more, before you two meet.
Your baby's brain is working overtime these days, developing faster than ever. Connections between individual nerve cells are growing at a frenetic clip, and your baby can now perceive information from all five senses. Sure, your baby can't smell anything right now, but that's only because he or she is still submerged in amniotic fluid and needs to be breathing air to get a whiff of anything. Lucky for you — and your baby — yours will be one of the very first scents your baby breathes in, a scent that will quickly become his or her very favorite.
So what's your little dove doing all day while you're busy feathering your nest for his or her arrival? Making faces, hiccupping, swallowing, breathing, pedaling with little hands and feet along your uterine wall, and even sucking his or her thumb. In fact, some babies suck their thumbs so vigorously while in the womb that they're born with a callus on their thumb (what a little sucker!).
Your uterus can now be felt four inches above your belly button, which means that it's pushing all the internal organs that used to be there somewhere else. That could explain why you're feeling a little spare on air lately, don't you think?
I have also found that the shortness of breath is very true for me this week. On Sunday Mini decided he wanted to beat the heck out of my right ribcage. Wow the pinching and hard to breath moment lasted about 15 minutes but all in all - it eased up. I was just glad to have read that tidbit before it happened. I would have thought the baby was trying to come out the wrong end.
I am told that less frequent movements start this week. I can definitely still tell there is something in there. The movements are not as strong as they were originally - but now, you can watch the bulge move around the stomach. So I know things are still going on. I just tend to get kicked less hard.
Sleeping is getting really uncomfortable - It is still pretty manageable but noticeably more difficult.
This week marks an incredible milestone in your baby's lung development. Before now, the air sacs and branches in your baby's lungs were present but not functional. The lungs were not able to inflate properly. However, now there is surfactant being produced in your baby's lungs. Surfactant prevents your baby's lungs from collapsing outside of the uterus and the baby is able to take in air and breathe properly. The fetal ear is almost completely developed both inside and out. Your baby can hear your voice and other familiar sounds that s/he will recognize after birth. Your baby is putting on white fat under the skin and the skin's color is pink instead of red at this point. Your baby's fingernails have grown to the end of her fingers and s/he may scratch herself while s/he is in the womb.
Ok onto the GD nutritional appointment: as promised a new mini: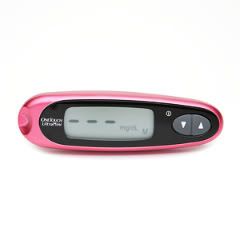 I am now a proud owner of a 1 To.uch Ul.tra Mi.ni. The meeting with the nutritionist was fine. I found out that I should be eating about 2400 calories a day. I was not eating neither enough. We have mapped out what looks like a pretty good schedule (that I have to stick to- I am going to develop more o.cd tendencies) I also have to write down everything I eat. That is going to be the challenging part for me. I also found out that I failed the fasting results by 4 points and the 1 hour by 2 points, They were able to find my 4th draw and it was w/in the normal range. What I am hoping all this means is that by eating every ~2 hours I will be able to control my sugars pretty well. This mornings monitoring has gone well so far. keeping all fingers crossed and lot of good thoughts and vibes going to my sugars. The dietitian was impressed with what I was already doing and we just added about 1000 calories in my daily diet.
The nurse was surprised my sugars were as good as they were based on the pc.os, m.etfor.min and family history. She has high hopes that I can manage this with monitoring and more food. Let's hope. They gave me free range on peanut butter ... I can eat peanut butter on anything I want... Silver lining.
I go back to see them May 5th. I go and see my OB May 9th. Let's hope that I get good reads this week and ease into writing everything down.
I have 24% left to go. I can make this happen.