P-word Dr appointment post,

skip to the red for fun facts today



Look, I am in the double digits on my counting widget!!!!!!! Question - way conflicting info - 3rd trimester starts at the 26th, 27th, or 28th week? I have tried to figure this out and meant to ask the Dr today. Maybe I should call back.

Cliff notes : I had my monthly growth scan today and fetal echo. I am 1 day shy of 26 weeks, Mini was measuring 25w4d but weighs 2 lbs 5 oz. (sleeping heart rate 135- which they advised me was "perfect" after the fetal echo) I will take that thankyouverymuch. The wonderful u/s tech was trying and trying to get a good picture of the lil booger. However, Mini had other ideas – such as sleeping with his butt up in the air. Face down.. no cooperation. So no good pics ...
The the u/s tech asked if we knew what we were having, I said yes a boy .. and she says.. "Um I can't confirm that". I asked what she meant thinking she just could not see the goods because of the bad positioning this kid has crammed himself in. No she meant, she thought it was the "other sex" ………… We did not leave there until a sex was determined. As you can see below, thankfully Mini is STILL a boy .. it was just bad positioning on his part…. My heart nearly skipped a few beats…. I was wondering what I was going to do with all the pre-collected blue items We had.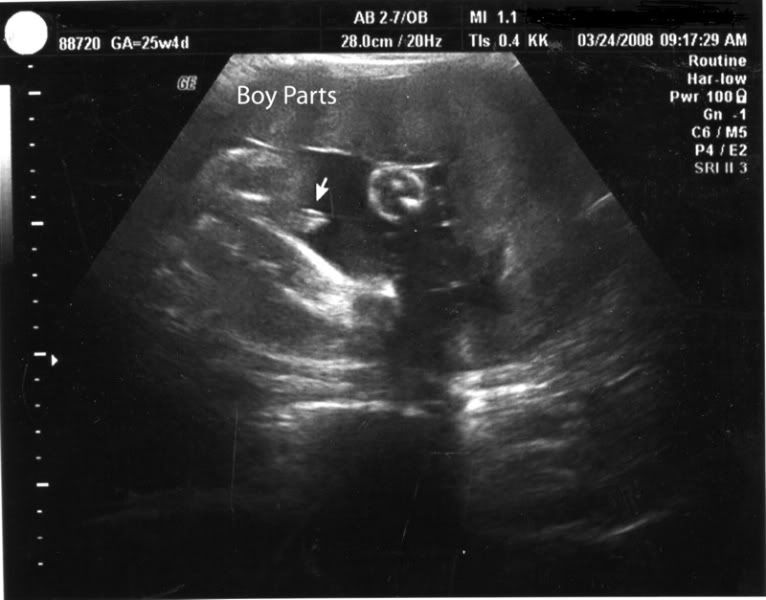 Mini is obviously already taking after his father. This morning while trying to get E up – I left the alarm on to annoy him enough that he would eventually have to get up and turn off the alarm clock while I was in the shower and getting ready. (our appointment was about an hour from our house – in the middle of rush hour traffic - so we needed to leave pretty early) I was in the shower and heard the alarm clock going off for nearly 5+ mins. I had to go over and shake E to wake him up after I already had woken him up 3 times before I got in the shower. Basically I am telling you this because Mini REFUSED to cooperate for the U/S tech. She would have me roll over, stand up, go to the bathroom, switch sides, poke him in the hand with the wander, NOTHING was going to move this sleeping kid…. I am only hoping this trend follows suite outside of the womb.(please)

One thing is very certain – Mini likes sleep and was not at all happy with our attempts to wake his lazy butt up. One pic below – he has his hand over his face (nose and mouth) – can we say Theatrical MUCH…. (but look as those beautiful fingers) We have our next growth scan April 21. I made it later in hopes to be more of a convenient time for Mini's schedule
I learned something today – Because of leap year – the ovulation/due dates wheels that dr's offices have are all off by one day and so many hours (I forgot that number) So they changed my due date – june 30. It's one day-ish. No biggie for me really – whenever is fine with me. Just thought that was interesting – So we all may be off by a day + hours.