I wanted to thank all of you for the generosity poured out through your really sweet and appreciative comments the past few days. I wanted to state that I was not saddened by the recent anon comment as much as I was deeply offended that someone would be so blatantly hurtful towards another person. The the last anon comment was based off another blog comment I left for another blogger - It was not intended for the Anon poster and was taken WAY out of proportion By the Anon poster ... .... Regardless.. that' s all the time/energy I will spend on that issue..... SO

Back to our regularly scheduled program:
It's Good Friday and I just wanted to wish everyone that celebrated a Happy Good Friday
and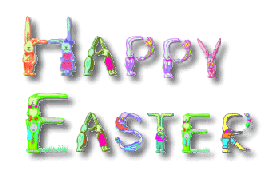 I will be going to our annual Family Easter Egg round up on Sunday. I will be thinking about all of those getting ready to cycle, coming out of a cycle, waiting for a cycle or next step, and those going in for er/et's while we are gathering all our eggs. What a great holiday for us Cy.st.ers's. Let there be Eggs Eggs Everywhere!