Answering more questions - ( keep um coming it gives me something to blog about)
The Cats - they pretty much stay AWAY from A. They are not big fans of his at all. They try to keep a good distance between them. (excpet they like his "toys" ..I have to keep them out of his things.
The book I am reading is
This
(the last link didn't work for some) I am still not quite finished with it. *I know there are alot of controversial parenting books out there - I think the big key to all of them is to use common sense and give yourself room for error and as always stated, Be kind to yourself, it's a learning process for everyone.
Photo bloggin -
I finally got around to ordering his birth annoucements -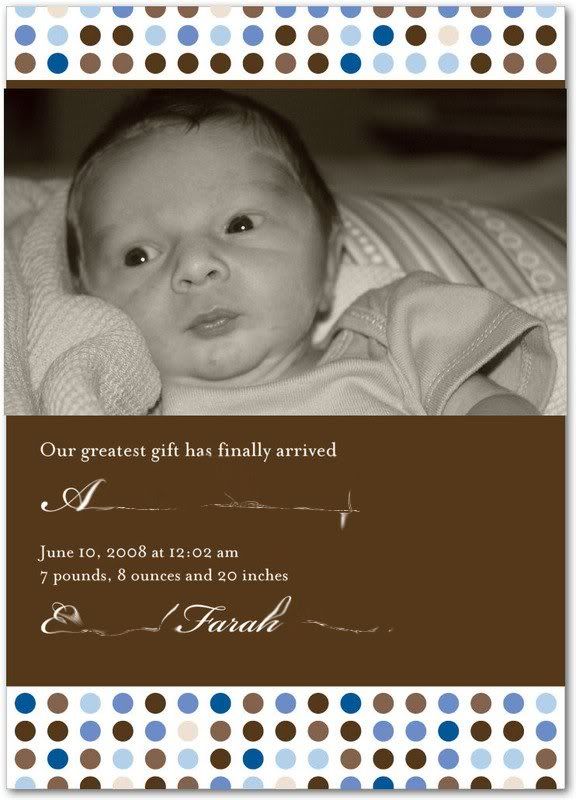 Anla made a sling for me - He LOVES it - absolutely Loves it.
It has rained (and by rained I mean gullywashing) everyday that we have been home from the hospital. I wish it would stop raining so I could get outside and enjoy a nice walk. A loves being in his carseat/stroller. He falls right to sleep as soon as the car/stroller starts moving.
My parents live about 8 ish miles away and bribe us with dinner pretty much every night we have been home. If i bring hte baby over, they will make us dinner. I am truly being absolutely spoiled rotten. Baby A is also because his grandparents hold him all the time. He is the first grandbaby on both sides ( I was the first grandbaby on both sides also) I know what is in store for him ... LOTS Of spoiled rotten-ness. (and I think that is just perfectly fine - remind me of this when I am ranting about being spoiled rotten and tantrums are mentioned)
As for a schedule - we
sortakindamaybe
have one - He wakes up about every 2.5-4 hours, I go get a bottle ready and warming, go pick him up and do a diaper change, feed him now about 3 oz-ish, after the bottle I try the swing (tomorrow I am going to try his floor gym) until he is just too tired to stay awake, then he sleeps and we rinse/repeat that whole routine every 2.5-4 hours during the day.
After the first feeding in the morning(anywhere from 6-8), He would rather cuddle or have me hold him on my chest. Sometimes he falls directly back to sleep after the first morning feeding. Sometimes he is wide eyed and busy tailed.
He has pee'd on me quite a few times, It's really just the funniest thing, I so want to get it on video.
Remember keep the questions coming - Sometime's I am just at a loss of words