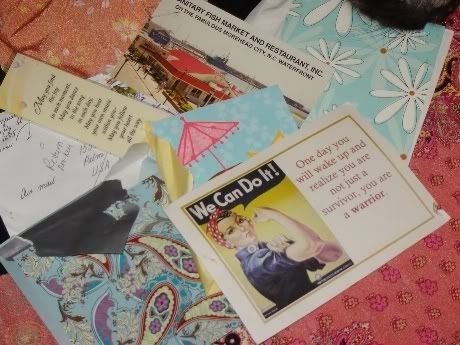 First Off - if you haven't already Run (go now - and return after you read) to
H2H
's blog..

(Im soooo excited for you!! congrats)



Thank you - all of you- that sent me such warm and encouraging words. They have ment alot to me these past weeks. It has been comforting to come home to personal smail/electronic mail this week to unwind from my work.

These past few weeks have been very rough at work. I work in a field were there is no room for error EVER. As our Chief says, "we have a zero % error rate". And all we have had lately is, yep you guessed it, ERRORS. Lots of them. The kind that start at the top of a hill and pick up speed as the trickle(read- create an avalache) down. At 6:20 pm tonight (WAY PAST My Shift) , I threw up my hands and told my supervisor that I could not help anymore tonight. I will TRY to come in fresh tomorrow and take one thing at a time. I also wish that I could tell you how calmly I have handled all this "lil snafu's" as my supervisor likes to call them.. Calmly HA, Calmly. I am nothing but Calm lately. All tensed up and strung out. If this persists much longer (been a uphill battle since Feb and seems to get better than worse in cycles) I am going to the Dr. to get on some happy pills. AND I'm not even swollowing or injecting extra hormones into my body these past months ....

So needless to say, Its CD 33 and I am still awaiting the wicked AF. I could have stressed her out so much that she is freakin scared to come for a visit. She is afraid that I may go all Ozzie on her and Bite the head off of her ....
The "Ole Bat!!